Reformation & Revival conference
Outstanding ministry, delightful biography, earnest prayer, warm fellowship and good food – such was the fare at the annual conference of the Reformation & Revival Fellowship held at Swanwick in Derbyshire from 16–18 November.
Roger Hitchings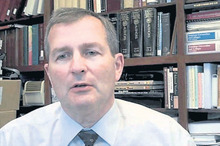 Dr Joel Beeke, Geoff Thomas and Wyn Hughes ministered to over 120 people from all around the UK. Dr Beeke presented Christ as he spoke on 'Our Altogether Lovely Saviour'. 'In authentic revival, preachers are Christ-centred' was his introductory contention. He then unfolded the beauty of the Saviour as he spoke of Christ Promised (Genesis 3.15), Christ Forsaken (Matthew 27.46), Christ Risen (1 Corinthians 15.20), Christ Married (Revelation 19.6-9). The Lord was made very real during these four sessions.