Floods: churches help clear up
Members of an FIEC church in Carlisle have played an active role in helping the clear-up operation following December's devastating floods.
FIEC / en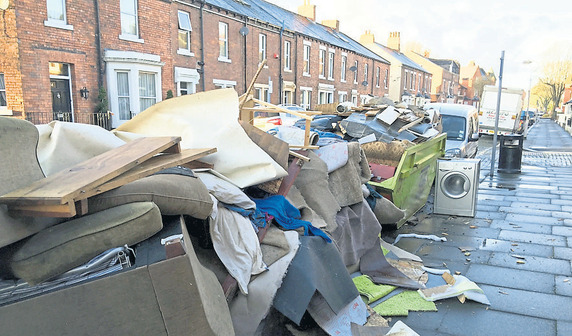 Hundreds of homes were affected when Storm Desmond battered the North West of England and the vast majority of those flooded in Carlisle were within a half-mile radius of Carlisle Baptist Church. A number of folk connected to the church were forced out of their homes. The storm also affected the church itself as the school hall they meet in for Sunday worship was flooded and is unlikely to be available for months to come.
Pastor Peter Walkingshaw said the church was eager to help with the huge clear-up operation. He said: 'In the immediate aftermath we were well placed to respond to the pressing needs of people affected. Our church family rose to this challenge and we were able to provide hot soup and hot drinks as well as distribute donated items. We also bought and distributed cleaning products and buckets, while the church mobilised teams to help people emptying contents from their homes out onto the street.' The church has set up a fund, details of which can be found at https://my.give.net/CBCFloodAppeal
Helping in Bury
Pastor Clive Bullock of Radcliffe Road Baptist Church writes concerning the flood in Bury, Lancashire: 'It was lunchtime on Boxing Day when I received a call from Simon, one of the other elders. "Do you think we should open the church building up?". Simon went on to say that the main road running past the church building had become a river and the police had closed it.
'A number of the streets very near to our Grace Baptist Church had been inundated by the River Irwell which had burst its banks. Calls went round and a small team from the church assembled at the building that afternoon to offer shelter, hot drinks and assistance to local people who had been forced to leave their flooded homes. Bury council used the church building as a collection point for people needing emergency overnight accommodation at a local sports centre.
Free lunches
'The floodwaters subsided fairly quickly, but of course flooded houses were left in a terrible state. In the days that followed, the church building was opened from 12 noon to 2pm and local people were provided with free lunches and a warm comfortable place to escape for a little while from the upsetting realities of the aftermath of the flood. A mini food bank and supplies of bottled water were made available at the church and church members also delivered meals to people who were housebound. Church members also offered their services in helping people clean up their own homes. Many of those affected were people on low incomes with very limited material resources of their own.
'A few of the church members in particular were outstanding in their compassion and commitment to church 'neighbours' whose lives had been disrupted in such dramatic and upsetting circumstances.
'On Christmas Day, the church had gathered to remember the coming of Christ and the good news of great joy which is for all people. We hope that small acts of love and service for those affected by the floods will soften some hearts and incline our neighbours to consider Jesus, who is the life and motivation for any good his church can do.'