WOMEN'S VISION TAKES OFF
Sometimes someone has a good idea.
Susie Leafe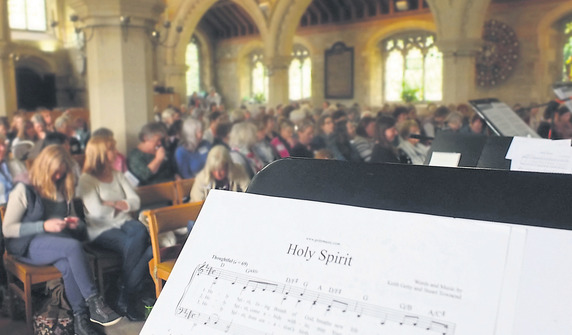 They find some friends to help put it into practice and then thinks that is the end of the matter. Sometimes God has other ideas.
When Jennie Dow, a young teacher in Bristol, came up with the idea of the Bristol Women's Conference she had no clue where it would lead. In fact, when I contacted her recently in preparation for this article, I don't think she was aware how far her vision had spread.
Birth of a conference
More than ten years have passed since Jennie suggested to a few friends, including her pastor's wife, Kath Paterson, that it might be helpful to gather women together from different churches in Bristol to hear Sharon James explain the biblical vision of godly womanhood. Throw in a seminar or two, a good lunch, some talented musicians and a lot of hard work, and the Bristol Women's Conference was born.
I was at that first conference at Kensington Baptist Church where about 100 women gathered together. I remember being moved to tears as I saw women of all ages, some who I had known as students, others who had mentored me in the past, all in the same room, praising God and hungry to hear his Word taught.
Word spread and the second Bristol Women's Conference took place in 2005. This time people came from as far afield as Exeter, Cardiff and the wilds of Wiltshire. When I moved down to Cornwall, I longed to take the women in our church to a similar event, but a three hour journey seemed too far for one day.
Spreading West
Then I bumped into Beccy Davies, a woman of extraordinary faith and enthusiasm who thought the concept of a women's day for the far South West was worth pursuing. Wonderfully, the team running the Bristol Women's Conference agreed and decided to 'plant' a new event in Plymouth, hoping to reach women living in Devon and Cornwall. The first Peninsula Women's Conference took place in 2010 – we used the same format, the same contacts and even the same speaker as Bristol that year.
Fast forward five years and both the Bristol Women's Conference and Peninsula Women's Conference have 'planted' again. The Peninsula Conference now takes place in two venues – Exeter and Truro and this year nearly 400 women came to the two events. In 2014, the Bristol Conference outgrew Kensington Baptist Church and started meeting in Abbeywood Community School. Despite being able to accommodate 350 women, it was still oversubscribed. So next year the Bath Women's Conference will follow in the footsteps of the Peninsula – planting a new conference whilst sharing the resources of the Bristol Women's Conference.
Testimony to God
The growth of these conferences is an extraordinary testimony to the way that God uses his people when they are willing to serve him. Jennie never would have believed that by 2016 more than 1,000 women, many of whom attend small struggling churches, with little Bible teaching, would be sustained and encouraged in their walk with the Lord because of the work of the Bristol, Bath and Peninsula Conferences. Moreover, it has been a joy to see women testing and developing their gifts; Bible teachers have taught and led seminars; administrators have managed the logistics; musicians have led worship; and gifts of welcome and hospitality have been used aplenty. The Good Book Company has made bookings simple and the 10ofthose book stall has been a faithful partner for many years. It has been a great team effort!
Bristol Women's Conference's original aim was simple. 'A day of Bible teaching and fellowship for women from Bristol and beyond. We aim to be encouraged and strengthened in our faith and equipped by God's Word to serve him faithfully.' I, for one, believe they have fulfilled it and pray they continue to do so for many years to come.
2016 dates: Bristol 5 March, Bath 23 April, Exeter 15 May and Truro 21 May. http://bristolwomensconference.org/ www.peninsulawomensconference.com