EMA: undiluted gospel
It's four years since this reviewer attended the Evangelical Ministry Assembly run annually by the Proclamation Trust, in London.
Philip Wells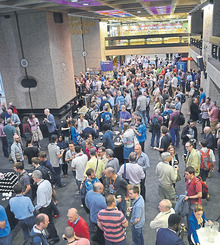 Since my last visit the assembly has become much bigger – 1500 compared to 900. The venue has changed from St Helen's Bishopsgate to the Barbican. And the range of attenders wider than ever. The conference was spread over three consecutive days in June. Each day had four sessions of talks and seminars, including expositions by Reuben Hunter, Andrew Reid and Vaughan Roberts.