Oxford's 25 missions
In February, the Christian Union at Oxford University launches a major mission to students: Andrew Atherstone delves into the archives.
Andrew Atherstone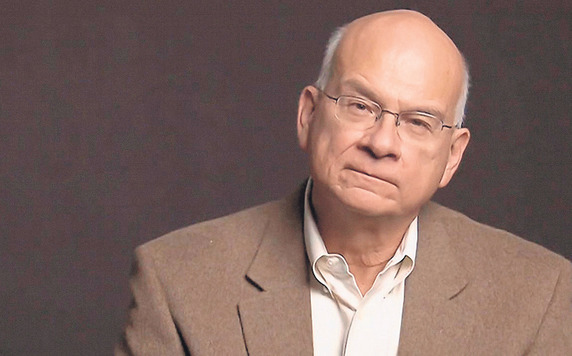 Tim Keller and Os Guinness are in town.
It's for a six-day mission arranged by the Oxford Inter-Collegiate Christian Union (the OICCU) to proclaim the gospel in a university of 22,000 students from all over the world. There is a similar event every three years, to make sure that every generation of undergraduates hears the Christian message. And this year's mission is a significant milestone – the Silver Jubilee of OICCU missions – the 25th in a row, from February 1940 to February 2015. Countless lives have been transformed, and still the outreach continues.
War-time emergency
The initiative began in the dark days of the Second World War. Almost every student was sent to the army straight after Oxford, many never to return home alive, which focused minds on eternal questions. OICCU hastily arranged a mission led by Thomas Torrance and Martyn Lloyd-Jones, though Lloyd-Jones caught influenza and a substitute evangelist had to be found with only three hours notice. Publicity was organised at the very last minute, and the entire expenses came to just £67. But it was called 'a time of spiritual disturbance', a few were converted, and the idea of a triennial mission was born.
A congregation of farm labourers
Lloyd-Jones was twice a chief missioner for the OICCU, in 1943 and 1951. He also took part in an ecumenical mission to the university in 1941, speaking alongside Archbishop William Temple in the University Church. Students had to take their gas-masks, for fear of the Luftwaffe. After Lloyd-Jones had preached, he was mocked by a leading member of the Oxford Union debating society who said the sermon was better suited to 'a congregation of farm labourers' than to educated undergraduates. But Lloyd-Jones replied that Oxford students were 'just ordinary common human clay and miserable sinners like everybody else', so their needs were 'precisely the same as those of the agricultural labourer'.
'What think ye of Christ?'
This emphasis upon unembarrassed gospel preaching has been one of the characteristics of all 25 OICCU missions. Students are invited, night after night, to hear a classic mission address in a major central venue. Often hundreds of students went to listen. One Oxford don lamented that 'those ranting fundamentalists, those schoolboys in the OICCU, have only to offer tea and some buns, and a Bible-punching evangelist, and they get crowded out!'. In 1957, for example, over 500 heard John Stott each evening address the question 'What Think Ye of Christ?'. In 1988, the OICCU were in Star Trek mode with a mission called It's Life, But Not As We Know It. That week Nigel Lee preached to as many as 850 students on a single evening. The numbers have fluctuated over the decades, but gospel proclamation has always been central.
Fame and foolishness
The OICCU missioners are not media personalities and are usually totally unknown outside evangelical circles. The focus is the message, not the messengers. In 1960 there were two Oxford missions. The first, in February, was organised by the college chaplains and led by the world-famous figure of Archbishop Michael Ramsey, whose addresses were published as a bestselling book.
The second mission, in November, was organised by the OICCU and led by an unknown 35-year-old preacher from the Church Pastoral Aid Society, Dick Lucas. The chaplains hired the Sheldonian Theatre. The OICCU made do with St Ebbe's Church, a much smaller venue, off the beaten track, which John Stott admitted was 'a bit tucked away in the slums'. Lucas acknowledged 'the absurdity of our position', holding another mission so soon after the archbishop, with a team of obscure young missioners like himself. He told his assistant missioners: 'This puts us very low: which is where we want to be. This suits us down to the ground', quoting 1 Corinthians 1:27-28: 'God hath chosen the foolish ... weak ... despised ... things of the world'. OICCU's concern was not to build reputations or to parade credentials, but to proclaim Christ.
Don't box the gospel up
The key was communicating the good news in as many ways as possible. 'Don't box the gospel up', one Cambridge friend wrote to the OICCU, 'let it loose'. The missions of the 1950s and 60s were straight-laced affairs, with evangelists in suits or gowns. The 1970s and 80s saw the explosion of music, drama and poetry, from concert pianists to folk guitarists and mime artists. David Watson from St Michael-le-Belfry in York led three OICCU missions in 1973, 1976 and 1982, supported by the Riding Lights Theatre Company. He especially welcomed drama because it helped 'to break down the 'word resistant' character of today's student population'. Yet Watson was clear that it was only a preparation for hearing the gospel, not a substitute. Before his 1973 mission he told the OICCU: 'I believe, increasingly, that it is the direct proclamation of the gospel which God honours in the context of evangelism, and I hope that we will not lose our confidence in this'.
Facing opposition
OICCU missions have always provoked strong reactions. During the 1960s there was vocal opposition from the Oxford University Humanist Group (OUHG), affiliated to the British Humanist Association. During the John Stott mission of 1964 they picketed OICCU events and launched a rival propaganda campaign. Humanist posters appeared around Oxford: 'Join OICCU now. Minimum subscription – your critical faculties and your social conscience'. The humanists distributed sarcastic Easter cards, with the message 'Get Well Soon, Jesus! Hope to see you up and about again in a few days'.
Many college chaplains were also cool, if not openly hostile, towards OICCU evangelism and reluctant to welcome OICCU assistant missioners into their colleges. The police objected if the mission banners were too prominent, in case they distracted the traffic. Undergraduates complained at finding free copies of the Gospels in their pigeon holes.
The 2009 mission, led by Rico Tice, coincided with the bicentenary of Charles Darwin's birth and Professor Richard Dawkins exclaimed: 'What Oxford students should do – unless something has gone wrong with our admissions procedures – is apply their intelligence, and their critical thinking, and send the evangelists packing with their tails between their legs. If they don't send them packing, I am ashamed of Oxford'.
A spiritual battle
The OICCU saw these challenges as part of a wider 'spiritual battle', and therefore the best response was prayer. 'Pray against the attacks of the enemy', the Christian undergraduates were exhorted before the 1967 mission, including 'doubt, depression, subtle and open persecution, ill health ... fatigue'. Three years later they were reminded: 'there is no room for those who skirmish in their slippers, only for those who battle on their knees'. Nigel Lee, chief missioner in 1985, quoted Sidlow Baxter with approval: 'Men may spurn our appeals, reject our message, oppose our arguments, despise our persons – but they are helpless against our prayers'. Lee continued: 'let us ask God to commit as many new-born Christians into our hands as we can ever cope with. Think big. Let praise ring out in heaven!'.
Disciples not decisions
The spiritual impact of the OICCU missions is difficult to measure. In 1943 there were about ten conversions and 80 people were 'stirred'. During the 1976 mission 150 students professed conversion; in 1988 there were over 80 professions. 'The Tavern', a follow-up course in an Oxford pub launched after the 1997 mission, attracted 460 students each week, one of the most fruitful in recent memory. Last time around, in 2012, after the mission led by Tim Keller and Mike Cain, 87 students attended the follow-up course called Questioning Jesus. But in Nigel Lee's words, OICCU missions are about 'disciples' not 'decisions'.
Michael Griffiths from Overseas Missionary Fellowship was chief missioner in 1979 and reminded the OICCU: 'We do not want statistical conversions, but only what are manifestly shown to be supernatural interventions by Christ in students' lives, both life-transfiguring and life-long lasting. Merely human success would be a failure. We want the university to know that God is real and Christ is Lord'. Therefore the OICCU method for every mission from 1940 to 2015 has remained the same – proclaim the gospel with clarity and conviction, and pray for the Sovereign Lord to act in power.
Andrew Atherstone is Latimer Research Fellow at Wycliffe Hall, Oxford.