Re-working ministry from the ground up
Plus ça change, plus c'est la même chose (The more things change, the more they stay the same).
David Gibson,

Trinity Church, Aberdeen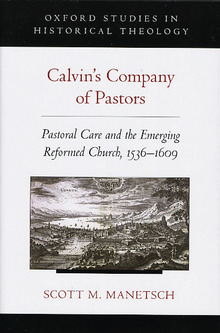 CALVIN'S COMPANY OF PASTORS:
Pastoral care and the emerging Reformed
church, 1536–1609
By Scott M Manetsch
Oxford University Press. 448 pages. £47.99
ISBN 978 0 199 938 575
Most pastors know this is true of life in general, and yet we often don't believe it's true of the particular point and time in which we live and minister. We fall prey to thinking that the challenges and demands of our particular context represent a unique challenge to gospel work, or require radical innovations to train the next generation of leaders and reach the lost.
First-class scholarship
Scott Manetsch's superb book shows us that when it comes to ministry in a Reformed key, some things never change: it is often brutal beyond words, back-breaking and thankless, requires friendships that are deep and long-lasting in order to stay the course, and is sustained only by love for Christ and his word having first place in the pastor's heart.
This is a work of first-class scholarship. A decade in gestation, it is the result of poring over the published registers of the Company of Pastors in Calvin's Geneva, as well as minutes from various other religious and civil bodies, supplemented by materials from the works of Calvin, Beza, Goulart and other pastors and theologians who formed the noble train of early Reformed ministers of the word. The scholarship lies in the close reading of such a massive array of data which Manetsch has managed to weave into a colourful sketch of ministerial life. We are treated to chapters on Geneva and her reformation; the pastoral vocation; pastors and their households; rhythms of ministry; the ministry of the word; the ministry of moral oversight; pastors and their books; and the ministry of pastoral care. This portrait dispels any myths about a golden age of pastoring. It both charms and shocks in equal measure in depicting the unchanging work of the pastor.
Wrestling then and now
This is not to say there was nothing new in that era, of course. Manetsch shows that the Reformation invoked a profound reworking, from the ground up, of the nature of ministerial vocation, affecting everything from the presence of benches in church to the development and growth of expository preaching. But even as he does this, Manetsch helps the contemporary Reformed minister see and understand where the wealth of his inherited weekly patterns and practices comes from. We discover that it has always been easier to call a minister to a city or town than to the countryside; immigration and multi-culturalism was the hot issue of the day, requiring deft and deep thinking about the implications of the gospel for societal calm; we see church-based theological training seeking to promote biblical literacy as widely as possible and yet not succumbing to a dumbing down of educational standards for ministers. Here the recognition that theological college was not sufficient to train men for ministry went hand in hand with the recognition that theological college was necessary to train men for ministry.
By tracing the work of Reformed pastors over the course of seven decades, Manetsch explores Calvin's pastoral legacy and the efforts of his successors to preserve it. We see ordinary men wrestling with the implications of Calvin's admonition to 'change nothing.' Was he wise to so advise, and were his pastoral successors right or wrong in how they responded? Manetsch's text is an invitation to wrestle with it ourselves and in so doing to reflect on the essence of the ministerial vocation as both word-centered and people-centered.