Anglican Update Encourage one another
Our dear brother John Richardson went home to glory this year. As a writer, he is a loss to this column, but his ministry has myriad legacies. Not the least amongst them is the annual Junior Anglican Evangelical Conference (JAEC) which took place in September.
Susie Leafe,

Director of Reform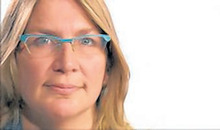 The 'Junior' refers to the delegates – they are all people with less than seven years in ordained ministry, with some who are only just embarking on that path. It was wonderful to be there to see men and women from all over the country gathered to explore together their future ministry, in pursuit of John's oft repeated goal – nothing less than the evangelisation of England.