Darlene, dates & dictionaries
The four hymns on that October Sunday evening weren't bad.
Christopher Idle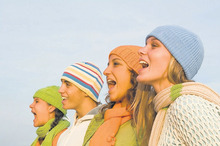 Good, in fact, which these days means above average. Not for the first time I was a visitor to the chapel. We led off with 'In heavenly love abiding'; then came 'Through all the changing scenes of life'; before the sermon, 'Be still my soul, the Lord is on thy side'; and to conclude, 'When peace like a river'. Nothing remarkable there — so what about these choices?