The God of small things
There are days when the to-do list does not feel very exciting. Weeks when the things calling for our attention feel deeply mundane.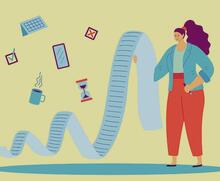 That pile of emails, that piece of bureaucracy, that message that needs passing on – hardly cutting-edge ministry, just stuff that needs to be done. Many of us would prefer to spend our time on things that feel more strategic, more impactful – after all, what eternal fruit comes from signing some cards, chatting about refreshments or filling in a form? But take a closer look at God's word and we see the little things of life can be filled with meaning and value; they are the context in which much can be transformed.