To fly or not to fly?
The summer holidays are here and I hope that, whatever you're planning, you manage to have a really good break. If you're heading abroad, as I will be soon, the chances are that you'll be flying to your destination.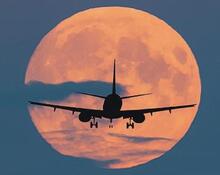 Before Covid, UK residents made over 58 million holiday visits abroad a year. There were almost 300million air passengers at UK airports. In the past couple of years during the pandemic these numbers crashed, but as restrictions have eased, and recent chaos at UK airports shows, people can't get enough of flying abroad on holiday or to see family and friends.