Welsh pray for revival
An Evangelical Alliance prayer breakfast for Wales has brought together members of the Senedd (Parliament) from across the political spectrum and seen representatives from more than 20 nations praying for the country.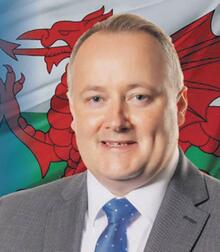 At the event's evening reception, the chair of the Cross-Party Group on Faith, Darren Millar MS (see photo) announced that this year's theme would be revival. Several other members of the cross-party group also took part as did representatives of the Bible Society and the National Library of Wales while 'Sound of Wales' led the worship. Each contribution emphasised the rich spiritual heritage of Wales, but also stressed the importance of the work that Christians are continuing to do.