Taliban going door-to-door killing
While the gaze of the world is focused on Ukraine and Russia, in Afghanistan the Taliban is now going 'door-to-door' searching for Christians, who are then murdered for their faith.
Iain Taylor; Paul Diamond; Open Doors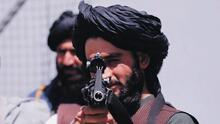 Christian barrister Paul Diamond, who has been in constant contact with Afghan Christians since the West pulled out last summer, said they are now in hiding for their lives. He is seeking an urgent meeting with the government minister responsible for the resettlement of Afghan citizens in the UK.