Ionnsaich Gàidhlig na h-Alba? Tha!*
Sharing faith while helping mums to learn Gaelic is the aim of a new venture in Govan, in Scotland.
Sarah Robinson, Communications Manager, FCOS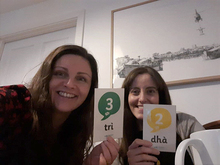 Julie McAddock, a member of Govan Free Church, has taken up Gaelic lessons from fellow church member Catriona MacDonald to learn the language and to provide a practical help for mums whose children attend the nearby Govan Gaelic school.