Navigating fake news
At some point, we all find ourselves at the cross-section of news, current affairs, politics and our faith. How do we navigate the endless news cycle, social media, fake news, cancel culture, and more?
Jordan Brown

is learning on the job by helping to pastor a church in South Africa.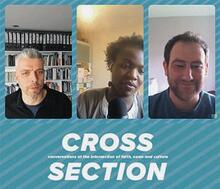 CROSS SECTION
www.eauk.org/resources/what-we-offer/videos-and-podcasts/cross-section
Spotify, Apple Podcasts and Google Podcasts