Jewish openness prompts new outreach
International Mission to Jewish People (IMJP) is to step up its efforts to reach and share the gospel with Jewish people living in London, the result of a discernible new openness among some to hear and receive the good news.
Iain Taylor; IMJP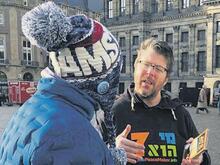 One such person was Simon, a young Jewish punk rock singer. Befriended by an IMJP missionary, he revealed how tough he was finding lockdown. The missionary talked about the hope he had in Jesus, Simon accepted a copy of John's Gospel and the two are now having regular one-to-one Bible studies.