Bishop encourages weary
The conservative evangelical Bishop of Maidstone, Rod Thomas, says the pandemic is an opportunity, even though it is 'wearying'.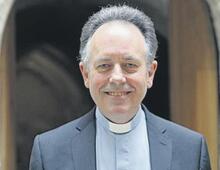 Writing as scientists investigate the new Covid variant, Omicron, he draws attention to 2 Timothy 4:1-2 and says: 'Another variant and with it more uncertainty. The wearying nature of this pandemic is enough to make us all approach ministry with a sense of resignation. However… Paul conveys a sense of commitment and urgency as he reminds Timothy that in view of Christ's appearing and His kingdom he is to fulfil his ministry "in season and out of season". Timothy might experience all sorts of uncertainties, but in view of God's certain plans for history, Paul urges him to seize opportunities for the gospel.