Romanian evangelicals mount protest
Nearly 6,000 Romanian evangelical Christians have marched to the German embassy in London. They were protesting against the forced removal of all seven children of Petre and Camelia Furdui, of Hanover, who stand accused of 'religious indoctrination' by the German child protection agency, the Jugendamt.
Iain Taylor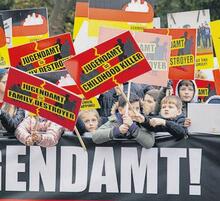 The Furdui family, originally from Romania, has lived in Germany for nine years. The children range in age from 15 to one. Last April all seven were removed following extensive conversations between the social worker and the eldest child, who had been diagnosed with multiple sclerosis. They discussed religious education and Mr and Mrs Furdui believe the Jugendamt deemed them be religious fanatics and incapable of educating their children in the spirit of the times. The six eldest children were then placed in a children's home; the youngest is now with foster parents.