Hindu leader calls for beheadings
Swami Parmatmanand, a prominent nationalist religious leader (see photo), has called for fellow Hindus to behead Christian converts from Hinduism.
Iain Taylor; Open Doors, Premier Radio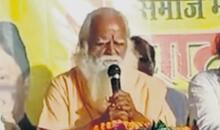 Parmatmanand was speaking at a mass rally in India's central Chhattisgarh state. The protest was organised against an alleged rise in conversions of Hindus to Christianity and his audience included senior leaders of the Bharatiya Janata Party (BJP).