Martyr's death marked anew
A plaque has been unveiled in memory of Christian martyr William Bamford on the outside of an inn in Harwich, Essex. Bamford, a weaver from Coggeshall, was burnt at the stake on 15 June 1555 because of his Christian faith.
Stephen A. Toms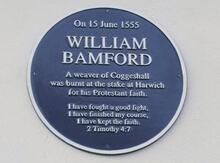 The exact spot where he was martyred is unknown, but it is thought that it would have taken place in what was known as the 'punishment area'. The Essex Protestant Council (EPC) arranged for a commemorative plaque to be placed on the New Bell Inn, in a street called Outpart Eastward, which is in that area.