This lesser-used Bible translation is well worth a look
There is no end of Bible translations, but this one is worth a look. It advertises itself as the newest complete translation of the Bible into English, but it's not really that new.
Barry Seagren,

retired pastor and L'Abri staff member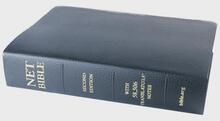 THE NEW ENGLISH TRANSLATION
(NET BIBLE)
Bible.org. Various formats and prices.