Christian schools close after kidnaps
The State Schools Quality Assurance Authority has ordered the closures of 13 mainly Christian schools following the abduction of staff and students from Bethel Baptist High School in the Chikun Local Government Area of southern Kaduna state, Nigeria.
Iain Taylor; Morning Star News; CSW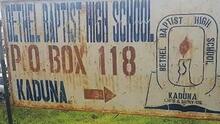 In early July, suspected Fulani herdsmen kidnapped most of the nearly 180 students at gunpoint. It was merely the latest of a series of attacks on schools and colleges across Kaduna – which is now seen as an epicentre for kidnapping – that have greatly increased this year. The attack on Bethel Baptist was one of four incidents which took place within a 24-hour period.