'Amazing' work in Latvia
Spring and summer are important seasons in Latvia. After the cold months of winter, longer warmer days are very welcome.
John Woods,

School of Preachers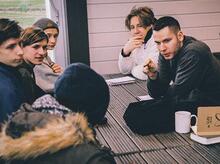 One very important feature of a Latvian summer is enjoying sunshine and fresh air in the countryside. Dotted around Latvia there are a number of Christian campsites that have been a key factor in reaching children and young people with the gospel message. Each year hundreds of camps are organised by churches and Christian organisations. Due to Covid restrictions in 2020 many of these camps were not able to take place. In 2021 they are back, albeit on a smaller scale.