Multiple baptisms at new church plant
Thirty people have gathered to witness the constitution of Grace Church Walthamstow in North East London, and the induction of 'Wale Akinrogunde as the pastor.
Association of Grace Baptist Churches (SE)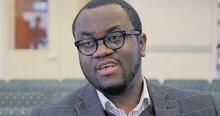 Formerly known as Church Hill Baptist Church, the original church was founded in 1633 and stood as the oldest Reformed Baptist Church in London, but sadly closed down in 2014. It was agreed that efforts should be made to replant a church in the same building.