ANiEthing is possible!
The Anglican Network in Europe (ANiE), approved by conservative Anglican network GAFCON last year, was formally constituted and commissioned at an online service in April.
Andrew Symes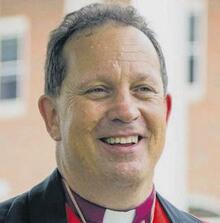 It was led by Bishop Andy Lines (see photo) with Archbishop Foley Beach as the preacher. Music was provided by the Glasgow-based New Scottish Hymns Band, and there were many messages of support from around the world, including, movingly, from Stephen Than, Archbishop of Myanmar.