How to be more rested
Blaise Pascal famously said: 'All of humanity's problems stem from man's inability to sit quietly in a room alone'.
Robin Ham

pastor of two churches merging together in South Cumbria: St Paul's & Grace Church Barrow. He blogs at thathappycertainty.com. You can follow him on Twitter at @rhamage.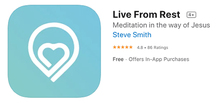 LIVE FROM REST
Apple/Android. Free