Churches badly harmed by Equatorial Guinea blast
More than 100 people were killed after a massive explosion in Equatorial Guinea (central West Africa) in March, with 600 injured and almost 300 in hospital. More than 60 people were rescued from under the rubble by the civil protection corps and the fire service.
Iain Taylor / Evangelical Focus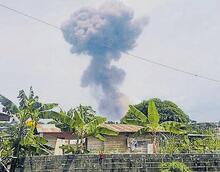 Local Christians and churches were badly affected too, with a Baptist pastor (as yet unnamed) killed and several members of the Baptist Church of Bata killed or injured.