Leaving lockdown with love
There were moments when it felt like it would never happen. Weeks when we couldn't even remember how sitting in a park might feel. But, after months of tight restrictions, we've started the process of leaving lockdown behind.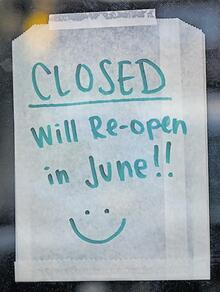 Many are rejoicing. Most are looking forward to further relaxation ahead. But, before we put the bunting out too high, let's not forget the people for whom the mapped-out changes feel very far from the good news the headlines proclaim it to be.
Some have flourished…
There are those for whom church online has allowed them to engage in ways they couldn't before. There are carers and shift workers who could rarely attend in the flesh but have been able to watch services online, and disabled people who have been able to turn the service volume up (or down) to make it possible to engage well for the first time in years.
Others may have thought they would miss face-to-face church but have, in some ways, flourished more in the past year. For those with significant anxiety, the joy of being able to focus on the sermon and then have one phone conversation with a trusted friend rather than navigating the complexities of post-service coffee has been an immeasurable relief. For the shy individual who always tried to go along to small group socials but frequently ended up leaving early in despair, the depth of relationship that has appeared through one-to-one walks has brought far more personal discipleship than anything 2019 brought their way.
…others hit hard
And then there are those who have been hit hard by lockdown. Those who have seen a recent spike in health anxiety will ask if it really can be safe to go back to something approaching normality so soon. Those who have developed phobias or more severe depression may panic at the thought of a life lived outside once more. Some of our elderly will have lost the confidence to walk down the road. A few who are struggling financially may simply not have the resources to travel like they did. Others will have been wrestling with deep theological questions about the sovereignty of God and aren't sure if they can trust Him anymore.
Their stories are often not heard. The dominant narrative is celebration of a return to what we once had (albeit with a few tweaks here and there). The temptation might be to focus on the keen ones. To offer little more than a passing word of compassion to those mentioned above. But that's not how a church is called to be. We rejoice with those who rejoice – we weep with those who weep – and that call stands as firm today as any other day since the church began.
So, let's spend time listening to how people really are feeling about the changes and the plans to come. Let's ask how we can keep the good things we've gained this past year whilst recapturing the beauty we have missed. Let's see what practical help individuals need to enable them to move forward (maybe small-group leaders can be tasked to survey those under their care?) Strong relationships will be key in helping people overcome the hurdles ahead.
But, more than anything, let's prepare people, Biblically, for the changes by talking about what it means to go into the future under the care of the Good Shepherd who will never fail to lead, provide and protect. The coming weeks may need to be a time of lament for some. It may be helpful if leaders can model openly what it means to turn to the Lord in times of stress. All can be helped to pray prayers of trust, to understand what it means to bear with one another when views vary, and to persevere, surrounded by a cloud of witnesses. Then we can move forward as churches together – united, leaving none behind.
More about Biblical Counselling UK is available at www.biblicalcounselling.org.uk or you can contact them at info@biblicalcounselling.org.uk or c/o Christ Church, Christchurch Street, Cambridge CB1 1HT