Testimony in Africa tragedy
A British Christian family whose relative was murdered by Islamists in Nigeria have called his execution video 'a grace'.
en

staff /

Morning Star News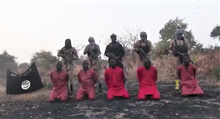 The terrorists killed the man on Christmas Day. He was in a group of 11 who were kidnapped, and was shot alongside four other Christians.