What can we learn from the Ravi Zacharias scandal?
In the defence of the faith, God has raised up significant men and women who have been recognised as great apologists, such as C.S. Lewis, Francis Schaeffer and Amy Orr-Ewing. Their teaching, writing, and even their lifestyle, offers a 'word back' to Christianity's critics.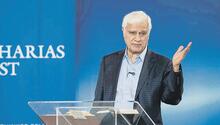 Sadly, we all have our failings. Sometimes we make mistakes, sometimes we deliberately sin. Many of us have been deeply saddened by the unravelling of one recent apologist's life story as investigations have been launched into his financial dealings, personal relationships and dubious academic credentials. Ravi Zacharias was a popular and persuasive communicator, but even an interim report from an ongoing investigation has acknowledged very serious issues of abuse and immoral behaviour. As Christians we are grieved for the impact on victims and appalled at the dishonouring of God's name.