'The curve of our hearts'
'Generosity' and, even more, 'money' are often in evangelical churches a great taboo. As Vaughan Roberts says in this book: 'I'd love to break that taboo, because the Bible is not embarrassed about these things and nor should we'.
Jeremy Marshall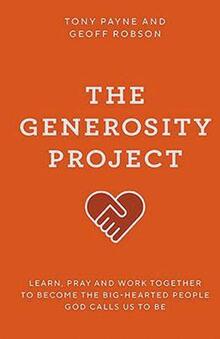 THE GENEROSITY PROJECT
Learn, pray and work together to become the
big-hearted people God calls us to be
By Tony Payne and Geoff Robson,
Matthias Media. 129 pages. £9.99
ISBN 978 1 925 424 577
It is called a 'generosity project' as it is designed to be used as a course by local churches and comes complete with accompanying digital content. It is meant to help Christians learn about generosity from the Bible and there is teaching from six different Bible teachers, from Australia and the UK, covering a range of types of churches and socio-economic groups. For while generosity is about money, it's about much more than that.
Much more than money
Our time and our attitudes and our whole life can either be generous towards others or miserly and greedy, turned towards ourselves. As John Stevens says: 'In our Western culture where people are very busy, time is often the most difficult thing for people to be able to give. We need to be generous with our time.' The book and course is very practical and designed for each of us to be able to think through for ourselves, based on what the Bible teaches, 'what does it mean in practice to be generous?'
It includes some really helpful real-life case studies designed to make us think. We read for example of a successful businessman, Manoj, which reads like a modern-day version of Jesus' parable of the rich fool.
Away from us, towards God
Ultimately generosity is about the 'curve of our hearts'. I have to acknowledge myself that too often my heart curves away from God and towards myself. Even as Christians we struggle to be generous – and yet God has been so sacrificially and incredibly generous to us. To curve our heart back from its natural sinful trajectory is hard; not least because of the continuing strong pull to curve towards our own needs rather than others. This project and book is an important step designed for the local church to help us on a journey away from ourselves, towards the generous God that made us and gave himself for us.