The beauty of being known
There's something beautiful about being known by people who care. Most of us yearn for the privilege of sharing our life with an individual or group.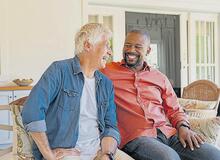 It's wonderful to be open, safe in the knowledge that we don't have to hide our struggles or quirks. It's so comforting to have people who can spot when we are having a bad day – such a delight to have people who know how to make us smile. Whether that's a spouse, a sibling, a friend – or all three – being known matters.