Benin: tech breakthrough in translation
A team of Wycliffe Bible Translators has developed a keyboard that will help people interact with the Bible in the Mbelime language.
Wycliffe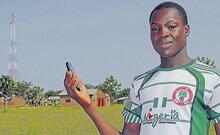 The Mbelime language is a minority language spoken in West Africa by around 100,000 people. Mbelime speakers are largely monotheists, and interest in Christianity has been slowly rising over the last two decades. An estimated 10% of Mbelime speakers now attend a local church.