China: 'national security'?
The National People's Congress (NPC), in late May, passed controversial new legislation on national security for Hong Kong, and on 4 June, the anniversary of the Tiananmen Square massacre, Hong Kong's own legislature made it a crime to insult the National Anthem.
International Christian Concern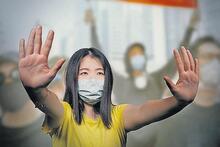 As the 4 June law was passed, students held a silent vigil at the Pillar Of Shame sculpture commemorating the massacre.