Leeds: moving forward even under lockdown
Roundhay Evangelical Church (REC) in Leeds appointed their first pastor, despite the restrictions of lockdown, with Adam Robertson taking up the post on 1 July.
Gordon Robertson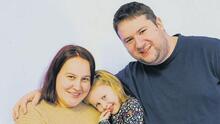 Identified as an area of Leeds without a clear evangelical witness, REC was planted in 2007 from City Evangelical in South Leeds, as an elder-led church. By God's grace it has grown slowly, and it was felt the time was right to appoint a younger man to lead the church into the future. Adam Robertson responded to an advert in January, and was able to visit for a weekend before lockdown. The wonders of the Internet, online sermons, and lots of phone calls meant that the church was happy at a (Zoom) church meeting to call Adam, unanimously, to be the pastor.