Bibi's BBC interview
In early March in an interview with the BBC, Asia Bibi spoke of her time in prison saying she was told by guards she could be released if she renounced her faith in Christ.
Christian Post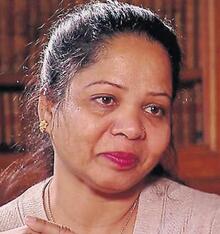 However, Bibi told them: 'No, I will live my sentence, with my faith'. She subsequently spent a decade in prison over allegations that she insulted Islam and its prophet. Bibi, whose real name is Aasiya Noreen, called her experience a 'trial sent by God'.