Three-dimensional singing
The London Music Ministry Conference (LMMC) was held on 25 January at All Souls Langham Place and entitled 'Singing in the Gap: worship while we wait for Jesus' return'.
Paul Greenhaigh,

Ministry Trainee, Holy Redeemer, Streatham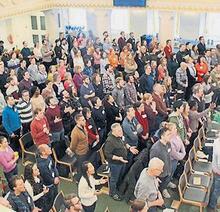 The aim of Music Ministry is 'to serve the local church in helping leadership teams and individuals to serve God with the gifts He has given them in music'. The ultimate goal is that the church is built up by congregational singing, as the word of Christ dwells in God's people richly (Col. 3:16).