Moving in, moving on...
Dr Dustin Benge was appointed the next Provost of Union School of Theology, taking up the post on 1 May.
Union / Opal Trust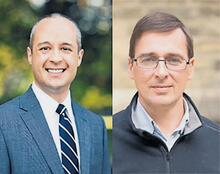 Dr Benge is currently Senior Fellow of The Andrew Fuller Center for Baptist Studies at The Southern Baptist Theological Seminary and Creative Director for the Seminary, where he was awarded his PhD on Jonathan Edwards. Previously he was Senior Pastor in Kentucky.