South Africa: survival mode
A Christian charity working with children with HIV in South Africa is suffering an acute short-age of funds, it was reported in December.
Morning Star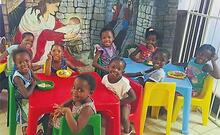 Morning Star Children's Centre has been caring for children of all ages for more than 20 years in Welcome, a poor area of the Free State. It has seen a loss of funds due to an account change which saw donors lost due to their being untraceable, or people reviewing their giving.