Tatchell's Liverpool homily
Peter Tatchell, the veteran gay rights campaigner, was invited to speak at Liverpool Parish Church in late October. There he encouraged clergy to engage in civil disobedience by officiating at same-sex blessings and marriages.
Church Times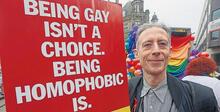 He suggested that, in opposing same-sex marriages in church, the Anglican leadership was 'echoing the past opposition' to interracial marriages.