Bishops bless butchering
Not one of the 26 Lords Spiritual spoke up or voted against the violence to be unleashed in Northern Ireland.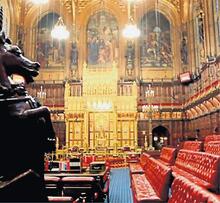 Westminster has passed a bill without any opposition from the Church of England bishops that will allow children in Northern Ireland to be poisoned, dismembered, crushed, and beheaded in the womb without anaesthetic up to 28 weeks for any reason, making it one of the most barbaric abortion regimes in the world. This Bill is more liberal than abortion laws for the rest of the UK. Abortion is allowed up to 23 weeks and 6 days, or up to birth where the baby is shown to have a medical abnormality, or there is significant risk to the life of the mother. In 2018, 92% of abortions took place before week 13 of pregnancy, and 2% (4,000 abortions) took place after 20 weeks.
Lord McCrea, a retired Free Presbyterian minister and former DUP politician who spoke out boldly in the House of Lords on behalf of the unborn, was frustrated that he found no helping hand from the Church of England.
'I am sad that, at a time when we need spiritual leadership, there is a Bench that is completely empty and its members are not present to give us that spiritual leadership on issues which have major moral implications for the people of the [UK],' he remarked during the crucial Lords debate on July 17.
Meanwhile the Archbishop of Canterbury, who skipped the vote, was at home within sight of Parliament. As Justin Welby discussed 'Public Faith and the Challenge of the Spiritual Life' with Muslims at Lambeth Palace, and celebrated 'World Emoji Day' by tweeting an emoji version of the Lord's Prayer, an unjust law was being enshrined just over the river, helped along by the absence of the Lords Spiritual.
Among the truants was Bishop of London Sarah Mullally. A former midwife, she is supportive of abortion: 'I would suspect that I would describe my approach to this issue as pro choice rather than pro live [sic] although if it were a continuum I would be somewhere along it moving towards pro life when it relates to my choice and then enabling choice when it related to others – if that makes any sense.'
She and her colleagues were represented in absentia by Lord David Steel who, during the debate, expressed deep gratitude for the 1965 Church of England document Abortion: An Ethical Discussion, which he says allowed him to support abortion whilst still claiming to be Christian, and paved the way for his 1967 Abortion Act which has now claimed more than 9 million lives.
In the absence of any representatives to clarify or refute, his comment served as a 'green light' from the legally established Church.
In contrast, on 6 September, 20,000 people gathered around Stormont in Northern Ireland to protest against the new bill.
Brephos is a ministry that helps churches to teach about abortion. Glen Scrivener is speaking at this year's Brephos conference for church leaders: November 8 at Westminster Chapel. Tickets available at brephos.org.