Switzerland: Reformation Wall vandalised
The Reformation Wall in Geneva, Switzerland was vandalised in mid-July with multi-coloured paint thrown onto it from above.
Evangelical Focus / Sylvia Revello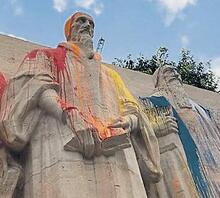 The monument is one of the main tourist attractions of the city in which John Calvin, one of the key French Protestant Reformers, developed his work after 1536. The wall, inaugurated in 1909, also honours the influence of Guillaume Farel, Théodore Beza and John Knox.