Bible training in Bedford
From this coming September, a new training course for all kinds of lay ministry is being set up to serve churches in Bedfordshire, Hertfordshire, Buckinghamshire and Northamptonshire – Four Counties Ministry Training Course, or 4CMTC.
East Anglia Gospel Partnership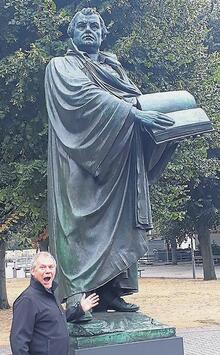 The course is being overseen by local church leaders in the Bedford area at the instigation of the successful TEAM (Training for East Anglia Ministry) course which has been running in Cambridge for many years. 4CMTC is intended for anyone who is already involved in regular Bible-teaching ministry of some kind – in Sunday School, children's or youth work, leading house-group Bible studies, or occasionally preaching – and who has been encouraged by their church leaders to seek training for further ministry in the future, but it would also be of interest to Christians who simply wish to deepen and extend their knowledge of the Bible.