British values are Christian values
Bishop Michael Nazir-Ali and other speak-ers are to affirm the Christian basis of British Values at an annual education con-ference, it has been announced.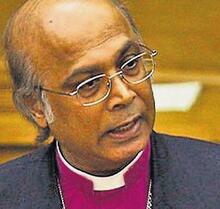 The Christian Coalition for Education (CCFE) represents a broad group of agencies 'seeking to bring a Christian contribution to education'. Their annual conference at St Ebbe's church in Oxford last November saw political and church leaders, including MPs and others from the main parties, discussing an orthodox and biblical response to the current controversies over sexuality, gender, and identity, within an educational context. The headline speaker, Professor Stanton Jones, a former Provost of Wheaton College, Illinois, met with leading figures in the UK to propose ways of speaking of Jesus Christ in education faithfully, lawfully, and with compassion.