Warning: fuel level low?
'I'm running on empty'. Not words you want to hear from anyone involved in pas-toral care.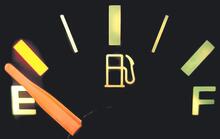 Not the words you want to say if you are someone who supports others in pain. But many of us have sighed that phrase. Life is busy, ministry is hard, health struggles are real and family stresses don't ebb away just because that email saying 'please can we meet again asap' pops into our inbox. So what should we do? Stoically press on while suppressing that sense we have nothing to offer? Give up and leave the care to others around? Or is there a better way?
Never just running on fumes
Maybe the place to start is reminding ourselves that, as Christians, we can never be truly empty. We can be exhausted, exas-perated and at the end of our tethers, but we can't be empty. We're sealed with the Holy Spirit – our bodies are a temple of the Lord Himself – and if He is at work within us, we will always have something to offer others: Him! That means that even on our hardest of days we can point people to Jesus and do so confident that it will make a difference to the person who's struggling nearby.
It's also worth saying that, sometimes in ministry, it is right simply to take a breath, shoot up an arrow prayer asking God to sustain us through the next hour and go for the pastoral conversation we've planned. (Meetings like that drag us away from our tendency towards self-reliance and that's no bad thing). That's no long-term strategy though – it's simply not wise to keep push-ing ourselves when we are overwhelmed. So where next?
Be still
Rest is nearly always the first port of call – none of us is too busy to take the time to recharge physically and spiritually (I'm learning that slowly myself!) Prayer and Bible reading have got to be part of rest. If Jesus saw the importance of spending time with His Heavenly Father, then how much more should we? And where else can we get a meal as nourishing or a sword so powerful as the pages of his word?
Looking at our motivation can be key – are we trying to be mini-Messiahs saving those around or content to point people to the one they need most? Are we finding satisfaction in our care rather than in our relationship with Christ? Repentance and a serious diary re-prioritisation may be neces-sary depending on our answers here. But on a more horizontal plain (it's so easy to focus just on the vertical, isn't it?), why not try these three Cs:
Communicate: There's no shame in admitting to close Christian friends that we're feeling wrung-out. In fact, far better to be honest now than completely broken later (and no, it won't be fine if we just press on without saying a word). Allowing others to care for us is essential if we are to care for others well. We can't claim to be being faith-ful to the many 'one-anothering' verses of the Bible if we only give and do not receive.
Collaborate: Co-counselling (having a pastoral conversation with another wise, mature person in the room) can be a won-derful way to share the pastoral load. Some weeks one person can take the lead, on other occasions the second person can take a more prominent role – and both can use their (diverse) gifts for the glory of God and the good of the person in need.
Community-create: Encouraging people to pray together in small groups can be a wonderful way to promote family, accountability and hope. Depending on our role, we may need to have an overview of the pastoral care that's going on in our church, but we don't need to be personally involved in every part. Whether it's a monthly meeting where addicts get together and work through a course or simply share testimony and pray – or a virtual group where young mums with postnatal depression send each other messa-ges of encouragement – facilitating ways for people to spur each other on is invaluable.
Care is meant to be a family affair. The more we rely on God and the more we involve others, the more we will see the Lord at work!
More about Biblical Counselling UK is available at www.biblicalcounselling.org.uk or you can contact them at info@biblicalcounselling.org.uk or c/o Christ Church, Christchurch Street, Cambridge CB1 1HT