The master weapon of discouragement
Mike Mellor discusses how to fight the blues in an era of social media 'success'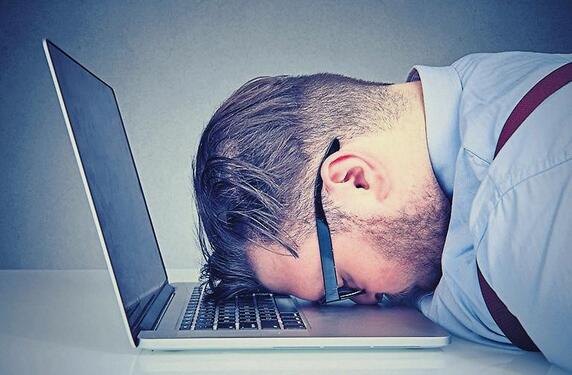 The overemphasis upon externals in our age affects us much more than we would care to admit.
The emphasis on image is enormous. The pressure – especially for preachers – to look and sound like the real deal is massive. We have the luminaries of the church coming to us via the Internet and through social media, and we rejoice in so much that is good – but we take a look at our paltry efforts, and slump. The means of encouragement can often be a double-edged sword. We are just not media material. How could we possibly have any impact when possessing 'the perfect face for radio', alongside fears that we struggle to impress even our own Sunday School kids?
Extraordinary
Yet, when we turn to scripture, church history and Christian biography, we are presented with an array of characters who make us feel almost normal.
If we look at the mighty leaders of the 18th century, we see the squint-eyed George Whitefield, and the dapper, diminutive John Wesley, of whom it was said: 'He could fall out with his own shadow'. In the next century we see one of the greatest Welsh church-planters, Christmas Evans, who had a glass eye! It is reported that halfway through his sermon the socket would fill up with fluid, so he would remove his eye, wipe it with a handkerchief and pop it in again!
The ugly apostle
Then, of course, the great apostle Paul, according to tradition, was no oil painting. One ancient writer described him this way: 'He was a man small of stature, with a bald head and crooked legs, in a good state of body, with eyebrows meeting, and nose somewhat crooked.'1
There were undoubtedly times when Paul would have heard the taunts of our cruel enemy whispering: 'Just look at you. Who on earth would listen to you?' He knew what it was to have 'conflicts on the outside, fears within' (2 Corinthians 7:5). In his letters to the church in Corinth we see him having to deal with the divisions that were driven by pride. Revealing the secret of his bold humility, he tells them: 'I care very little if I am judged by you or by any human court; indeed, I do not even judge myself. My conscience is clear, but that does not make me innocent. It is the Lord who judges me. Therefore judge nothing before the appointed time; wait until the Lord comes' (1 Corinthians 4:3–5).
There was nothing of that brash 'I couldn't care what people think' attitude about the apostle. He knew what it was to feel the pain of being misunderstood, accused and unappreciated, and we mustn't think that somehow he was above having to do battle with discouragement. Far from it: there were plenty of reasons for him to want to quit. It must have been rather depressing, for example, for him to look at the church he had planted and see such dreadful behaviour – drunkenness at church meals, members suing other members, sexual immorality, some denying the resurrection – and on top of that to detect their boasting about how spiritually gifted they (the church in Corinth) were. But this man of God refused to allow himself to be overwhelmed by such displays of ice-throwing.
Victory in praise
There may well be occasions when a 'spirit of heaviness' comes upon us – perhaps due to pressing circumstances, or a 'cloud' may simply descend and remain for no apparent reason. At such times we need to look to Him who came 'to comfort all who mourn, and provide for those who grieve in Zion – to bestow on them a crown of beauty instead of ashes, the oil of joy instead of mourning, and a garment of praise instead of a spirit of despair ['heaviness', KJV]' (Isaiah 61:2–3).
Whilst seeking to avoid a 'silver bullet' mentality in coping with such experiences, we have to admit that there often is inexplicable power and release to be found in God-focused praise.
Praise decentralises self
Praise lifts us away from ourselves and our circumstances and concentrates our thoughts upon Him. Praise honours God, therefore God honours praise. Note how often in the Psalms the writer moves from lamenting to praising. In Psalm 31, for example, David seems to find sweet release from the burdens that weigh upon him and the snares that encompass him. We were created for worship, not worry; therefore, our souls thrive in gladness, not gloom.
Let us beware of being a slave to our feelings. 'But I don't feel like it!', we so often object. However, our feelings have nothing to do with it. We must praise God! Praise is a sacred duty and privilege – a 'sacrifice' we are to offer 'continually' (Hebrews 13:15). God always expects His redeemed people to bring Him praise and thanksgiving. 'I tell you', said Jesus, 'if they keep quiet, the stones will cry out' (Luke 19:40).
Praise is a mighty weapon
In 2 Chronicles 20 we see the armies of Moab and Ammon making war against Israel. King Jehoshaphat calls on the people to seek God, and word is sent back: 'The battle is not yours, but God's … stand firm and see the deliverance the Lord will give you' (vv.15,17). As the people 'began to sing and praise' God, He dealt with the enemies that threatened to oppress them (v.22). Praise was an essential ingredient in their victory, and victories are still won and dark powers can still be put to flight when God is praised. He is able to break the chains that bind us, remove the dark cloak of heaviness and give us the oil of joy in place of gloom and mourning.
Does sadness fill my mind? A solace here I find, May Jesus Christ be praised! Or fades my earthly bliss? My comfort still is this, May Jesus Christ be praised! . . . The powers of darkness fear When this sweet chant they hear: May Jesus Christ be praised! 2
Music may be a help to us
CH Spurgeon, preaching on the text 'Now bring me a minstrel' (2 Kings 3:15), spoke of the effect music can have in bringing relief in times of darkness and oppression. Elisha was passing through a particularly difficult period: 'The prophet's spirits were depressed.' Spurgeon then spoke of this being a common human experience, and how God has provided a means of relief through music: 'Our minds are disarranged, the machinery is out of order, the sail is furled, the pipe is blocked up, the whole soul is out of gear … "Bring me a minstrel," said the prophet, for his mind was easily moved by that charming art. Music and song soothed and calmed, and cheered him … Among our own helps singing holds a chief place; as saith the apostle: "Speaking to yourselves in psalms and hymns and spiritual songs, singing and making melody in your heart to the Lord." '
Spurgeon continued: 'Note how he connects it with peace in his epistle to the Colossians: "Let the peace of God rule in your hearts … " '3
We need all the help we can get, so, to assist you in your praise, use a good hymnbook (what could be better than the Psalms!) or worship recordings. Praise God, no matter how hard your heart feels or how oppressed your spirit may be.
We do not lose heart
Standing like bookends at the beginning and end of Paul's great chapter on ministry in 2 Corinthians 4 is the phrase 'we do not lose heart' (vv.1,16). It is clear that he was often tempted to lose heart, but he tells us that the great motivation that kept him going like an express train, in season and out of season, was his eternal hope in Jesus Christ. He then spurs on those who share in that hope by concluding: 'So we fix our eyes not on what is seen, but on what is unseen, since what is seen is temporary, but what is unseen is eternal' (v.18). Thomas Brooks said: 'Hope can see heaven through the thickest clouds.'4
This article is an extract from Ice and Fire by Mike Mellor, recently published by Day One, ISBN 978 1 846 256 462, £9.00, and is used with permission.
FOOTNOTES
1. Acts of Paul 3:3, in E Hennecke and W Schneemelcher, New Testament Apocrypha, Vol. 2 (trans. and ed. RM Wilson)
2. 'When Morning Gilds the Skies', translated by Edward Caswall.
3. Charles Haddon Spurgeon sermon, 'The Minstrel', 7 August 1881, Metropolitan Tabernacle Pulpit, Vol. 27, The Spurgeon Centre
4. In John Blanchard, Gathered Gold, Evangelical Press