Average ­missionaries
Ultimate Grace is a delightfully ordinary book, and therein lies both its charm and its bite! In a matter-of-fact style Levi Booth unassumingly tells his story.
Richard Fairbairn,

pastor at Kingfisher Church (FIEC), Little Paxton, Cambridgeshire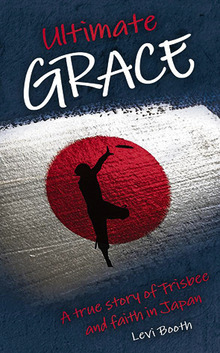 ULTIMATE GRACE
A true story of Frisbee and faith in Japan
By Levi Booth
10Publishing. 64 pages. £2.99
ISBN 978 1 912 373 673
He tracks his journey from a love for all things Japanese and a chance encounter with the sport of ultimate frisbee, to his acceptance of Christ and his missionary work with OMF in Japan.
While I have no interest in frisbees or Japan, Booth has. And, through God's providential shaping of these interests, he finds himself using them to take the gospel to those who have not heard. The point of his book is simple yet powerful: God might just want to use us as the people he made us to be, with our history, passions, interests, opportunities, etc (all that we are), to make Christ known.
An extraordinary missionary?
Some biographies of missionaries are astounding, but Booth's is not. Indeed, this book helps us see that a calling to overseas mission might not fall like a lightning bolt from the sky: 'Maybe the reason why God wasn't giving me a dream was because I didn't need one.' The title of 'missionary' creates all sorts of ideas. It often means being musical and teaching English. But Booth confesses that he is not the former and dislikes the latter! So, what does it mean to be a missionary? This question lies at the heart of the book and it is such a useful one because it is a question for every believer.
Booth's realisation that being a missionary was 'as simple as me being me' – one who has been gripped by the irresistible grace of Jesus in spite of all their faults. 'Jesus uses us in our failures. He works through our panicked drops and pride-induced throwaways. Some of God's best work has been through incredibly average people like me.'
The book's moving postscript has given me fresh joy and impetus to serve my Saviour with the interests he's given me.