'They ate together with glad and sincere hearts.' Why don't we?
New homes are being built near us, as in many places up and down the country. I can see them from our bedroom window.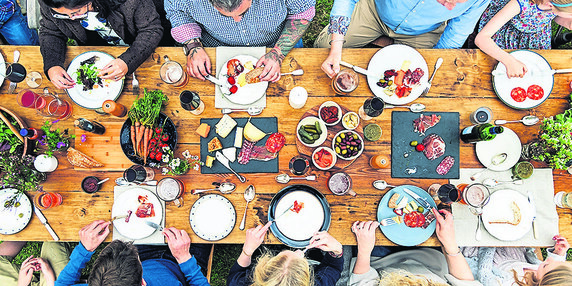 I can only dream of living in one of these places – they're completely out of my price bracket, but still, I couldn't help but have a nose around the show home. I got ready for this exciting excursion by looking up the details online. After all, if you can't afford something, it's reassuring to know how much you can't afford it.
No table!
The plans for the house perplexed me. There are spaces for work, watching TV, sitting on sofas, sleeping, showering, and even cooking. But no space on the plan to eat. At least, no space for people to eat together. No dining room – and these are big houses! No kitchen table – and these are big kitchens.
I don't know what you do in your home, but I can guess the list includes eating. Now, it's almost certainly an intentional plan to make homes multi-purpose and so I suppose I should not read too much into architects' plans and computer-simulated images. But I can't help wondering whether it reflects a deeper malaise: that we don't consider eating together so important today.
This matters, whatever your background. The gospel is often portrayed as a mealtime invitation – whether it is the parable of the banquet or the great invitation of Revelation 3: 'Here I am! I stand at the door and knock. If anyone hears my voice and opens the door, I will come in and eat with that person and they with me.' Christians celebrate the heart of the faith with a meal – the Lord's Supper.
Two great books
In his excellent book, A Meal with Jesus, Tim Chester explains how such meals are both a picture and a proclamation of the gospel. We should not 'reduce church and mission to meals', but 'meals should be an integral and significant part of our shared life. They represent the meaning of mission, but they more than represent it: they embody and enact our mission'.
In her most recent book, The Gospel Comes with a House Key, US author Rosaria Butterfield reinforces this same truth with numerous stories of how opening her home for the gospel has led to wonderful opportunities. At a recent Acts 29/FIEC conference on the subject of church in hard places, speaker after speaker and conversation after conversation underlined the same outcome – that opening our homes to others and, more specifically, eating with others, makes a difference. It doesn't matter whether it's fried chicken or houmous and dips (take your pick!), the principle is the same.
One great example
This was all brought home to me recently when I attended a relatively new church which has made great progress in reaching people. It was the first time I had gone along to a regular service there. Everything about the service was good. The welcome was warm and thoughtful. The planning was careful and gospel-driven. The music quality was high. The preaching was strong. All above average. Nothing was spectacular, however, or particularly different from what you find in any good UK church. So, what had made the difference to growth?
Right from the start, the church leaders had expressed an intentional desire to share food together. No doubt this is harder now than when it was just a dozen people in someone's front room. But they have stuck with it and – despite all the practical difficulties – made it work. How revolutionary! Suggest to most churches that they should eat together regularly, and you'll be told a hundred reasons why it can't work. Our churches are places to meet, but rarely places to eat.
It's not only our churches. I think many of us are individually a long way from the kind of hospitality culture we see in the Bible where we open not only our dining rooms, but our whole houses to others (there are some glorious exceptions, of course). We've made our homes our castles, places of retreat not just from the world, but from others in the church itself.
It got me thinking about our own home, our own meal table, and our own church. Perhaps it might get you thinking about yours too?
Adrian Reynolds is Associate National Director of the Fellowship of Independent Evangelical Churches and en's Chairman of Directors.