The Anglican Communion: A View From Pakistan
Michelle Samuel reflects on GAFCON 2019 from the perspective of Anglican churches facing persecution...
Michelle Samuel,

Director of Development and Programmes at Lahore College of Theology, Pakistan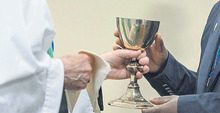 Bishops, Clergy, and Lay people brought stories and testimonies of being witnesses of Christ and enduring persecution for His name. Teaching from Philippians, multi-lingual worship, intercession, and stories of hope and pain were shared. Trust was built among complete strangers. Each one's journey was difficult, but no one seemed overwhelmed by the challenges to the point of walking away.