Pakistan: Wife Kidnapped
A married woman was abducted at gunpoint and forced into marriage to a Muslim man, it was reported in mid-March.
British Pakistani Christian Association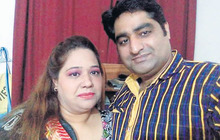 Saima Iqbal's husband Naveed Iqbal reported the incident as soon as it happened, but the police collaborated with the kidnappers and did not file a report on the incident until a week later. The police only filed the First Information Report (FIR) when Naveed and his children threatened to set themselves on fire in protest.