Unplanned: Expected Reaction
The US Christian film company behind God's Not Dead have released a film dealing with the issue of abortion. Called Unplanned, it takes the true story of a Planned Parenthood clinic director who came to change her mind about the whole abortion industry. The film graphically shows the reality of what abortion is: the violent destruction of an unborn child. It has been on theatre release in America and will be available online in the UK.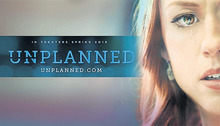 I have not seen the film, and I came across it because of a review in the Guardian. Entirely predictably, secular media have been scathing in their response. Having not seen the film I am in no position to pass comment on the production values or acting. I have no idea if the single star rating (they can't give lower) in the Guardian is justified. But what was interesting in that review is why they were so dismissive of the film.